***Note Possible Spoilers***
I just recently had the pleasure of screening Rod Lurie's "Nothing But The Truth" starring Kate Beckinsale, Matt Dillon, Alan Alda and Vera Farmiga. Based on a true story, this film delves into the balance of the press and the government.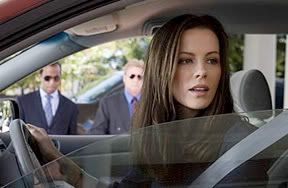 I've been an off and on fan of Beckinsale since "Brokedown Palace" and "Van Helsing" and I think this role may be the Oscar Contender for her. Speaking to one of my colleagues, she mentioned that I shouldn't pass off the chance of an 1:1 interview with Kate.
Finally after watching the film this past weekend. I was granted the sometimes elusive 1:1 interview the Yari Film Group had set up for me.
The full interview will be posted on the blog in the coming weeks as I just had an exciting day of having the 1:1 interview today. It felt like talking to a friend.
Kate Beckinsale plays Rachel Armstrong, a strong willed journalist who exposes the identity of a CIA agent and refuses to divulge the name of her source. Threaten with contempt and possible jail time, Armstrong must decide whether to go jail or reveal her source.
Angela Bassett plays Kate's editor.
After viewing this film, Beckinsale shows how much she engulfs herself in the role and owns it. You forget her beauty as her strength of protecting her source reveals the length she will go to keep the source a secret.
Her interactions with Vera Farmiga who plays Erica Von Doren, the outed CIA operative, illustrates her understanding on how to bond and create the realism of her character and the other characters around her.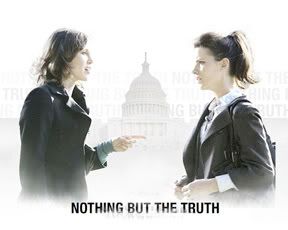 Vera Farmiga and Kate Beckinsale
Matt Dillon plays special prosecutor Dubois who Beckinsale's character may have to go toe to toe in her battle to keep her source a secret. Beckinsale hold her own as she has to find the wits to keep up with the Dillon's career minded Dubois character.
Matt Dillon (seated) along with Alan Alda.
Taking all of her acting abilities and experience, "Nothing But The Truth" gives Beckinsale the flexibility for her to shine.
The film opens up on December 19 in Los Angeles and New York with subsequent rollouts throughout the U.S.
I'll be posting some interesting tid bits from the interview such as her most enjoyable vacation spot she's been to.
Here's a clip where Rachel Armstrong confronts Erica Von Doren about her possible identity as a CIA operative.