With much regret, I just found out that the only national Asian American Cable channel AZN TV will cease transmission as of April 9, 2008. According it's website, it states "The management of AZN Television regrets to announce that the channel will be taken off the air effective April 9 9 at 12pm. WE thank you, our loyal viewers, for your support of AZN over the years.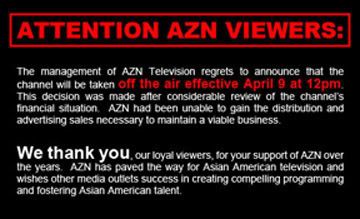 It's sad to see how mainstream media has not supported Asian American Talent also which also includes Madison Ave (advertisers). It seemed apparent as I attended AZN's Asian Excellence Awards Nominations last Wednesday. There were only a handful of video outlets and at least 10 event photographers in attendance.
Hosts of the 2008 Asian Excellence Awards - Carrie Ann Inaba and Bobby Lee.
Asian Americans are the last ethnic group to have a major recognition in mainstream media. Hopefully, there will be another Asian media outlet that helps enhance and gives a voice to Asian American talent. One in particular is ABS-CBN which had fostered a deal with Directv offering its Filipino programming as a package to TFC Direct Subscribers. This however, still does not open the eyes of of mainstream American to the talent that Asians and Asian Americans are capable of since the majority of TFC Direct Subscribers are Filipino.
Asian/Filipino music channel MYX may be the only one to keep and show Asian influences in entertainment alive. Until then, "Over The Shoulder!"