Watching the television commercials of the new ABC series "Miss Guided" reminded me of the "Samantha Who?" series and the funny Judy Greer has become one of my fav actresses.
As I sat watching the first episode, I was floored to see that the high school backdrop seemed familiar from the the school colors to the school mascot. All of a sudden, I see the main quad of the Long Beach Polytechnic campus and low and behold, it was my former high school alma mater. How a show I was enjoying became a surreal experience trying to figure out what parts of the school was used and what was either another school or location. Whoa, what a night thinking to myself, wait was that the hall that.....or omg there's the section of the quad I used to eat lunch.
Long Beach Poly Jackrabbit mascot. The school adopted the jackrabbit because of all the jackrabbits running rampant on the parcel where the school was built.
The front entrance of Long Beach Polytechnic High School. Our school motto "Enter To Learn Go Forth To Serve"
This wasn't the first time I was excited to see my high school used as a location shoot from the film "The Other Sister" to Paris Hilton's "Nothing In This World" music video, entertainment has made me relive my high school years whether I liked it or not.
Oh well, Snoop Dogg and Cameron Diaz are the most known Pop Culture individuals today that have roamed the hallowed halls of Long Beach Polytechnic High School and that's not including sports.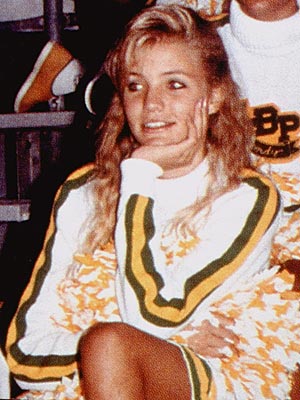 Cameron Diaz in her Polyettes outfit (drill squad).
Anyone else been reminded of their high school years because the use of their school in a production?