The kingdom of Hollywood was a bit warmer yesterday and so was the conference room at Four Season's Hotel. As the press waited patiently for Jackie Chan, Crytal Liu, Collin Chou, writer John Fusco, director Rob Minkoff and producer Casey Silver, we tried to keep our cool with ice tea, sodas and water.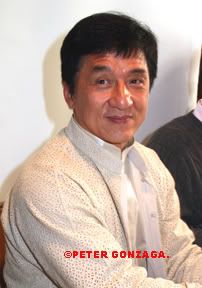 Jackie Chan signs autographs.
As soon as the cast and crew strolled into the conference, there was a mad rush of journalists in putting their digital recorders onto the table where the talent sat at. First question to Jackie Chan was about this movie and what he thought of it. It was a bit funny because he said he hated doing these types of Hollywood movies because they are different than Chinese made movies. However, if his movies like the "Rush Hour" and "Shanghai" movies has an audience and that young kid emulates the martial arts in a positive way that he gets from the movie, then he'll do more even if he doesn't car for them.
We all laughed but saw the writer, director and producer cringe a bit.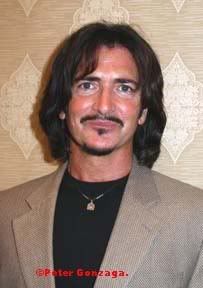 Writer John Fusco of "The Forbidden Kingdom."
As for his take on the protests against the Beijing Olympics. His answer was plain and simple to the point that the Olympics shouldn't be about politics and should be more about sportsmanship and goodwill on the field.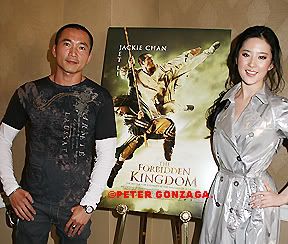 Collin Chou and Crystal Liu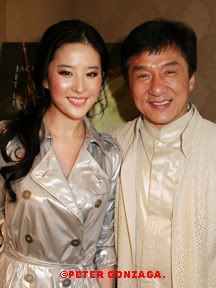 Crystal Liu and Jackie Chan.
I think Jackie Chan loves to organize things. While doing the press conference/junket for the movie, he was arranging the digital and cassette recorders in rows and when a tape would get to the end of its reel, he would turn it over and press record.
Another weird thing of Chan and I guess that's his hospitality kicking in, every time each talent member would finish their water, he would have his assistant give him a bottle of water and refill each person's glass.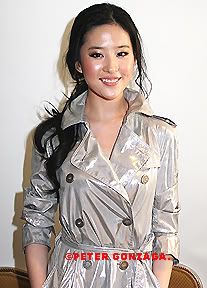 Crystal Liu may or may not be back for a sequel if there is one.
I felt a bit bad for Crystal Liu when a journalsit asked if there may be a sequel. Jackie, producer and director said it depends on the audience. Then Jackie turns to Crystal and said, "We'll you're not going to back." Then he revised his thoughts and said, "She may be depending on the audience."
I was a bit freaked out though, when out of a dozen of journalists he looked straight at me and at least I thought he mouthed "I remember you." I kind of brushed it off. Maybe he did remember me. In one of my first junkets, I did "The Tuxedo" junket in which he starred opposite Jennifer Love Hewitt. He asked the question, "How many of you liked this movie." No body responded. However, I didn't realize I had my hand on the table and doing a "so-so" movement. All of sudden, he points at me and says, "You are my friend. You are honest and truthful about the movie." So who knows, maybe he did remember me.
Anyways, "Forbidden Kingdom" opens April 18, 2008 nationwide.