With MMA (mixed martial arts) gaining popularity in the U.S. to a point that it is surpassing boxing, the entertainment industry has jumped on the band wagon. The latest in films with MMA as part of the backdrop is "Redbelt." Starring Chiwetel Ejiofor, "Redbelt" is about a Jiu-jitsu master, Mike Terry,who doesn't believe in fighting in competitions, but instead, using it a living a life of honor and education by operating a self-defense studio in Los Angeles. However, due to circumstances, Terry must take that road to competition to pay off some debts and keep his school open.
TRAILER OF "REDBELT."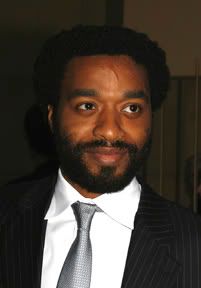 Chiwetel Ejiofor.
Along with Chiwetel Ejiofer, the film stars Rodrigo Santoro, Alice Braga, Tim Allen, Emily Mortimer and Joe Mantegna.
The premiere for the film was held at the Grauman's Egyptian Theater. Starting unusually later than event photographers are used to gave the majority of a sigh of relief once the red carpet opened. One major problem of the night was talent seemed pressed to walk the carpet as quick as possible. Even supporting actors were quicker than a 10 count to move on into the reception area of the premiere.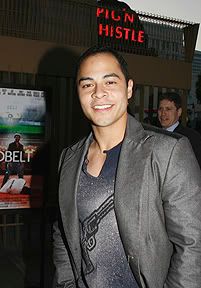 Jose Cantillo takes a quick step on the carpet.
One in particular was Jose Cantillo who plays Snowflake. I only got 2 shots of him on the carpet. He must thought he was going to melt in the cool LA. air. I still don't know what the rush was since we didn't have the usual lights set up by the lighting crew. Oh well, I guess that's the life on the carpet.
Oh wait, I just remembered, the talent must of been quite tired due to the fact that they came directly from the press junket. Imagine, talking to journalists all day then having to walk down the carpet for the premiere. What a life an actor has to live.
Oh nice surprise to see on the carpet was Jennifer Gray. I was still trying to figure out who she knew as to why she was on the carpet. I guess she's friends with the producers.
Jennifer Gray.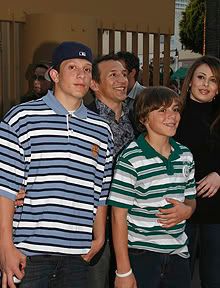 Ray Boom Boom Mancini made a round on the carpet with his family.
Rodrigo Santoro was looking GQ as he always does.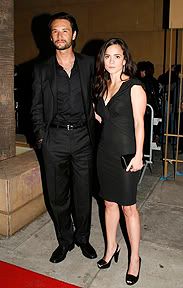 Rodrigo Santoro and Alice Braga.
The lovely Alice Braga was sexy in black. One of my photog colleague showed me a pic that he just took of her and for some odd reason it looked as if her dress was more revealing that we thought. It must of been the sheen of her dress.
Well I've got to run out to the screening of "Harold and Kumar Escape from Guantanamo Bay." I'll let you know how it goes.
Until next time, "Over The Shoulder!"