I decided to skip the "Zombie Stripper" movie premiere starring Jenna Jameson and check out the media screening of "Forbidden Kingdom." I"m not too into Kung Fu movies but who could pass up a film pairing up Jackie Chan and Jet Li.
From the beginning of the opening credits, my 4 year old nephew, sister and I were in awe with all those martial arts movie posters splashing across the movie screen with a few given some comedic relief. I knew we were up to an exciting night at the movies.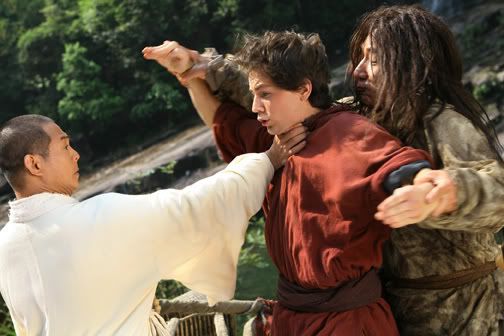 Jet Li (as Silent Monk, left), Michael A. Angarano (as Jason Tripititkas) and Jackie Chan (as Lu Yan) in THE FORBIDDEN KINGDOM. ©Lionsgate. CR: Chan Kam Chuen.
The film is about a young American teen Jason (Michael Angarro), who loves martial arts films. On one of his usual trips to his favorite Chinese antique arts store, he finds more martial arts dvds to purchase. On his way back home, he's confronted by the neighborhood bully who forces Jason to assist him in robbing the Chinese antique store. After a terrible accident during the robbery, Jason must escape the gun of the bully. All of sudden, trapped on top a rough top and hold an ancient Chinese staff, the powers of the staff pulls him off the roof and smack dab on the ground where he lays unconscious. When Jason finally wakes up from his ordeal, he realizes he has been transported to a rural chinese village along with the staff and begins his trip to the "Forbidden Kingdom."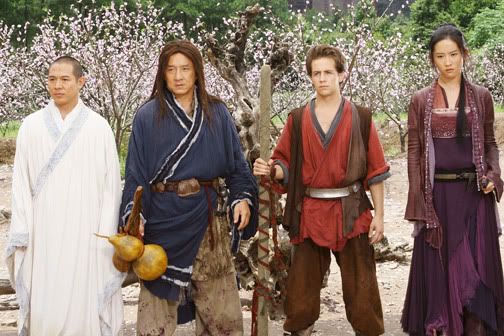 Jason and his warrior friends. ©Lionsgate.
Jason's trip includes freeing the fabled warrior the Monkey King, who has been imprisoned by the powerful Jade Warlord (Collin Chiou). Along the way, he is befriended by Lu Pin (Jackie Chan), Silent Monkey (Jet Li), and Golden Sparrow (Crystal Liu). The foursome travel throughout the countryside to get to the Forbidden Kingdom to help Jason take the staff to its rightful owner and defeat the Jade Warlord.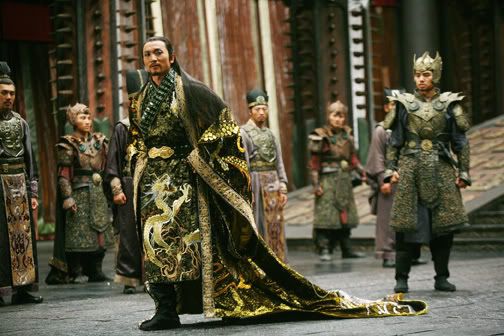 The Jade Warlord. ©Lionsgate. CR: Chan Kam Chuen.
Imagine watching those old martial arts movies but with the Hollywood machine bringing it's own twist to the film. With "Forbidden Kingdom" you get all the excitement of the Chinese martial arts films that Jackie Chan and Jet Li are famous for mixed in with the typical Hollywood story of a kid who has to face his nemesis.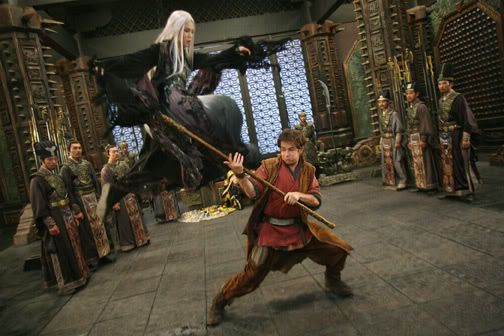 Ni Chang (Li Bing Bing) and Jason Tripitikas (Michael A. Angarano) in THE FORBIDDEN KINGDOM. ©Lionsgate. CR: Chan Kam Chuen.
So forget about hating Sarah Marshall and check out "Forbidden Kingdom" this coming Friday, April 18, 2008.