For those of you who do not have the privilege of knowing who Gary Valenciano is, let me introduce you. Considered the King of Pop in the Philippines,
Gary V
has shown his versatility in the last 25 years in Philippine entertainment as a singer, songwriter, composer, producer and actor. Along with his success in the Philipppines, he made a name for himself in the Christian Music community with appearances on the 700 Club and various Christian entertainment outlets. Many critics said that he made the wrong decision half way through his career in embracing his Christian faith onstage. They were definitely wrong.
With a warm heart and a caring personality, Gary V. is also a humanitarian who believes in the children of the world and shows it through his work with UNICEF.
With all those experiences in his life, Gary Valenciano is sharing his 25 years in entertainment with his concert Gary Valenciano 25th Anniversary featuring special guest Martin Nievera and the Jabbawockeez.
This past evening, Saturday, June 7, 2008 at the Nokia Theater in Los Angeles, fans and new found fans enjoyed a great selection of songs from Gary's repertoire and songs that influenced throughout his career.
Before the event commenced, we had to wait about an hour for the first act to perform as they were running late getting to the venue. Hmm, there was the Kanye West concert next door at the Staples Center and in the L.A. Convention Center was the Erotica L.A. Porn convention. I wonder if they had a pit stop to each of those respective venues. Seriously though, I was told that one of the Jabbaz sustained a knee injury before the show and APL. De.AP was stuck in traffic.
Starting off the night was the dance crew the Jabbawockeez. These talented group of dancers were the winner's of the reality dance show, "Randy Jackson's America's Best Dance Crew." This was a great decision for Kewlit Co and All Access Concert to start off the Jabbaz as the opening act for Gary V. As they showed their prowess of why they won as America's Best Dance Crew, it set the tone for the rest of the evening. Their performance gave me reason to forgive them for starting late.
Jabbawockeez knows how to move and make you move.
Jabbaz doing their thing.
Once the Jabbaz left the stage, surprise guest Taboo of the Black Eyed Peas made his way to the stage carrying a Filipino Flag and waving it around.
Taboo waving to the crowd.
After a quick singing and rapping, Taboo introduced his band mate APL.De.Ap to the stage. Apl showed the us what it meant to do everything from dance, rap and sing. With is infamous Bebot song, AP got the crowd off their seats shouting "Sigue!"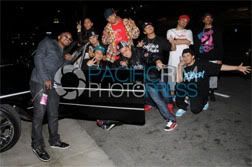 APL.De.AP with the Jabbawockeez.
With the talented trio of the Jabbawockeez, Taboo and APL.de.AP, the crowd was hungry to the main event. Gary V. finally made his premiere appearance on the stage playing the Filipino kulingtan gong drums. Wow what a way to make an entrance, banging on the metal pots that make the melodic native sound then Gary broke into his famous song and dance routines. Seeming like Gary was ready to pass the torch of his gifted entertainment talents, his son Gabriel joined in the fun with his dance moves, vocal prowess and rap skills. He definitely can dance like his father. Even the pelvic moves look more prevalent than dad. But dad definitely shows that he's got it.
Gary V. with sons Paolo and Gabriel.
Gary V with son Gabby (Gabriel) on stage.
Not to be forgotten, his eldest son, Paolo, also joined in the fun. With Paolo, his style of music is more rock than his dad's dance, pop, christian and soul leanings. However, being supportive his son, Gary met him half way with a great medley of songs from a very popular foursome from the 50's. I won't say the group's name so as not to spoil it for other concert goers who are waiting for Gary to perform in their area. This was his first time singing with dad on stage at a concert.
Paolo Valenciano gives a thumbs up to his upcoming performance with Papa Gary. ©Sthanlee B. Mirador/Pacific Rim Photo Press.
The medley was definitely endearing as the crowd gave Paolo a standing ovation which made Papa Gary smile.
One major high point of the concert was Gary's rendition of Freddie Aguilar's "Anak" a song meant for both parent and child. It was an interesting feat of Gary to sing the song in Italian, English and Tagalog. I think there was a hint of a bit of Spanish also.
After almost at close the the 11/2 half mark of the concert, Gary finally introduced his special guest, Martin Nievera. Gary expounded his excitement of hearing a Martin Nievera song 26 years ago that inspired him and influenced his career. Once on stage, Martin and Gary were like "Rowan and Martin," "George and Gracie" or just plan comedic guys who were able to intertwine each other's songs into this point of the concert.
They even made jokes about being on the Nokia Theater acting like they were on American Idol as both David Archuleta and David Cook. Martin begs that he'd been on "American Idol" if they had it when he was younger.
Gary V. and Martin Neviera having dinner at Patrick's Steakhouse. ©Sthanlee B. Mirador/Pacific Rim Photo Press.
What can we say about Earth, Wind and Fire. Well, that was one of Gary V's ultimate favorite band. Gary did Earth Wind and Fire justice with a slew of popular songs from the group and even singing "Reasons." Even one of the African American security guards had to turn around to see if the band was actually on stage. To his surprise it was Gary V. belting out the tunes.
After hitting the two hour mark of his show, Gary finally slowed it down with a love song to close the night.
All and all, I have to say thanks to the show producers for keeping the stage element simple with vertical trusses and light effects. No big productions of Gary coming down from the ceiling or entering a motorcyle. His talents was enough to make this concert one of the best that the Nokia Theater has seen since it opened in January 2008.
***All photo are copyright by
©Pacific Rim Photo Press