Wow! What a movie. If you like action and suspense then you're going to love "Vantage Point." I just finished watching a screening tonight in Santa Monica's Third Street Promenade. Imagine "Rules of Attraction" but substitute the montage of flashbacks to one particular situation with high intense emotional drama. Imagine watching the assassination of the U.S. President from the eyes of the assassin, an innocent bystander, and the hero to name a few.
In "Vantage Point," Thomas Barnes (Dennis Quaid) and Kent Taylor (Matthew Fox) are assigned to protect President Ashton (William Hurt) at a landmark summit on global war on terror. President Ashton is shot moments after he about to address the Spanish people in Salamanca, Spain. Lives of individuals involved are tangled in a web of innocence and deceit.
At first, the audience sighed as we went through a couple of re-enactments of the assassination of the U.S. President Ashton (William Hurt). But once the last and point of view segued onto the screen, the audience actually laughed and clapped but that soon turned into an emotional roller-coaster ride as foot chases and car chases ensued with the finale worth the suspenseful ride the movie took us on. The chaos of the assassination culminated on how various "Vantage Points" brings life together and how each person has a stake in history no matter how significant or minute their part is from a little girl bumping into Howard Lewis (Forest Whitaker), an innocent American tourist who believes he's captured the shooter on his camcorder or how Mr. Lewis is drawn into being helpful to secret service agent Thomas Barnes (Dennis Quaid).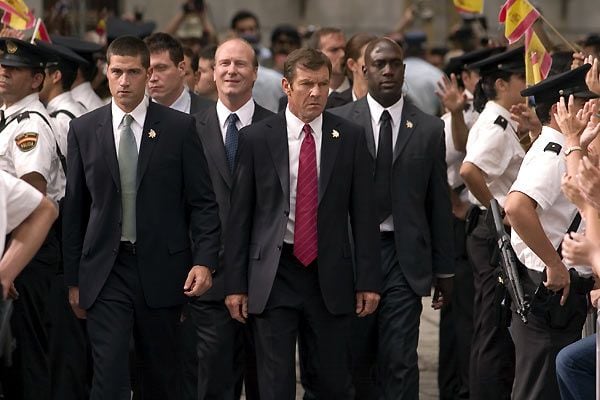 "Vantage Point" gives the audience their own vantage point in history.
I'll be posting my q&a with Matthew Fox in a few days. I will also let you know if I'll be covering the premiere.
Check out the trailer here: