A little side track from the usual entertainment red carpets I do. Today, I went to the Los Angeles FitExpo to cover the Los Angeles leg of the "American Gladiators" tryout. I thought I'd be a bit bored just taking pictures of contestants trying out for the show. But watching these people go through the semi-grueling physical test was interesting in itself. To see the individuals challenge themselves in making sure that they met the minimum physical agility require to looking like they just got beat up by the trials. One guy was so pumped when he did the running back from cone to cone that he tripped over himself and was upset. I have to give to these individuals wanting to make it to the next round of "American Gladiators."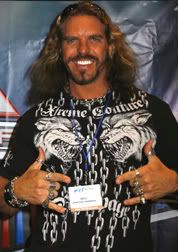 Wolf and his bad ass hair.
Along for the ride were gladiators Wolf and Justice. Unfortunately, after waiting around and checking out all the various booths, Militia wasn't around for any photo opps. Hmm, wonder if it's due to his recent news about his past. Oh well, I actually bumped into another photog of introduced me to Tanji Johnson another lovely gladiator. We joking about the red carpets as only a few the AGladiators have gone to many events. So I gave Tanji some pointers about how the photogs will either love you or not. Make sure to look at every lens as possible, once done start trying to pinpoint various voices and what they ask. I felt like I was doing a red carpet posing school seminar.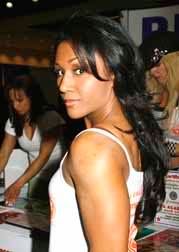 Tanji Johnson
My new photog friend introduced me to more "BodyBuilding celebrities" such as Mike "The Zipper" Sable, Marika Johansson, and IronFitness publisher Mike Goodin.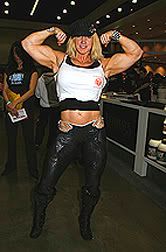 Marika Johansson can break a guy in half with her muscles.
I decided to walk around a bit and found another unique bodybuilding celebrity by the name of Ken Yasuda. He was a former Mr. Japan, a descendent of 46 generations of Samurai warriors. He's currently the head coach for International Fight League's Tokyo Sabres. Yasuda is also known as the Japanese Arnold Schwarzenegger.
Well after a few hours of seeing all these fit clubbers, Brazilian jijitsu fighters and fitness fanatics, it made me want to go home then head straight to the gym to do some pumping up.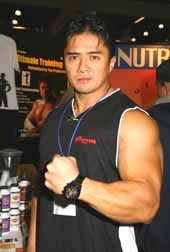 Ken Yasuda
Until the next premiere, "Over the shoulder!"
Upcoming premiere coverage "Semi-Pro" and "Penelope."