Last night was a black tie affair premiere for the new Brad Pitt and Cate Blanchett film "The Curious Case of Benjamin Button." While heading through the carpet, an interesting sound resonated through the air as Sharon Stone walked on the carpet ignoring the event photographers! Could it be that they were excited to see Sharon on the carpet. Nooo...not a chance, it came to light that Ms. Stone was going to do her usual ignore the accredited photographers while walking down the carpet.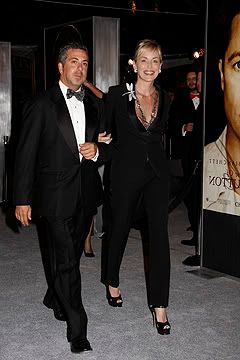 Sharon Stone breezes through the carpet!
This time, Stone would be verbally stoned as she ignored us. One photographer was heard saying, "We're not the paps, we're here to give you publicity!" Then all of sudden, she was booed throughout the carpet. Another photog shouted, "Come on Sharon! If Angelina can give us respect and pose, so can you!" While another blasted Stone by saying, "Sharon! Make up for the Milkshop.com fiasco. You made us resort to papping you at that event!"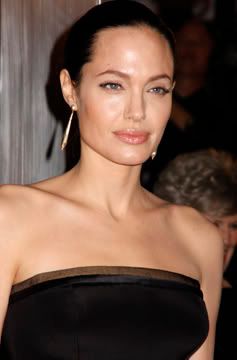 Angelina Jolie
Getting back to Angelina, she was so gracious enough as we asked nicely, "Angelina please come back! We didn't get any solo shots." To our amazement, she made the effort of coming back around a stanchion to pose for us red carpet photographers.
I guess she knows the difference between paps and event photographers that her significant other explained in an interview with Access Hollywood:
"Let me be very blunt, I hate them," Brad said firmly. "I hate these people. I don't understand how they do that for a living."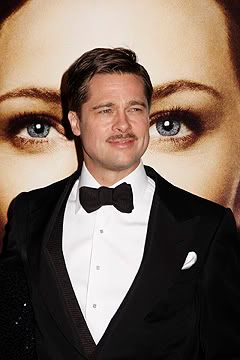 Brad Pitt sportin' a stache!
However, Brad was quick to distinguish between professional photographers and hounding paparazzi.
"We have to make a distinction between people who photograph celebrities at events and people who climb over walls wearing camouflage... calling out your kids' names as you try to take them to school so they'll look that way," Brad said, "I have no respect for these people. There should be laws against it. They should not be able to follow kids like this, but there's not right now, so that's the way it is."
As for Brad on the carpet, he's always a delight in photographing on the carpet. During this premiere, he actually gave us a treat by having his parents pose with Angelina and him.
As for his cast mates, they definitely worked with the camera. Unfortunately for Ms. Blanchett, buzz about her outfit was negative. Many loved the sequenced dress but when starting to move the eyes lower, the dress was ruined by some sort of spandex material that wrapped around her thighs. Oh well, sometimes it's good and sometimes it's bad.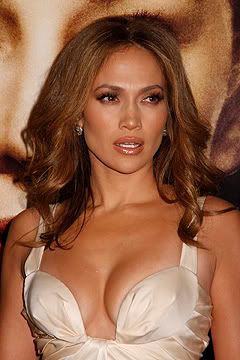 Jennifer Lopez
A surprise for all of us was the attendance of Jennifer Lopez. She definitely knows that cream makes her sexy. Wow, she brought back her bodacious body after having kids.
Eva Longoria had a nice aqua shiny number on that made her eyes sparkle.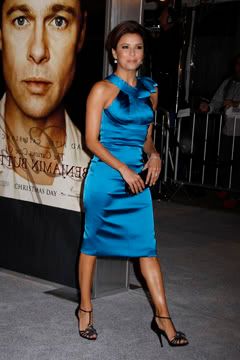 Eva Longoria
The icing on the cake would have been Tom and Kate plus Will and Jada, but that didn't happen.
Anyways more about the film according to Paramount Pictures:
"I was born under unusual circumstances." And so begins "The Curious Case of Benjamin Button," adapted from the 1920s story by F. Scott Fitzgerald about a man who is born in his eighties and ages backwards. A man, like any of us, unable to stop time. We follow his story set in New Orleans from the end of World War I in 1918, into the 21st century, following his journey that is as unusual as any man's life can be. Directed by David Fincher, "The Curious Case of Benjamin Button" is a time traveler's tale of the people and places he bumps into along the way, the loves he loses and finds, the joys of life and the sadness of death, and what lasts beyond time.
RELEASE DATE: December 25, 2008
Check out the trailer