Yesterday evening at the Pane e Vino Restaurant in Los Angeles last night, Sarah Silverman arrived at the party for USA Network's "Monk" 100th episode celebration. Before Sarah could walk the carpet and get into the event, she was flocked by more than 15 autograph seekers jamming tons of photos in here way. Ms. Silverman happily obliged until one seeker pushed a stack of photos in her face with the same pose.
Silverman retorts back to the seeker, "What's This? It's all the same thing. That's so impersonal." She then gave back the whole stack of photos back to that hound.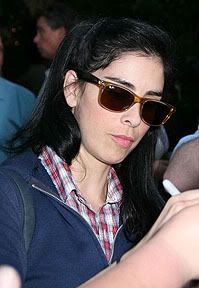 I guess that guy will not be getting Sarah's autograph any time soon.
As for the event, all the main cast members of "Monk" came out to party. Tony Shaloub, Traylor Howard, Jason Gray Stanford and Ted Levine made their way to the party to have some vino and Italian food. The first three stars did take a moment to sign autographs while Ted Levine decided to go directly into the restaurant.
I have to give it up to Tony for really taking the time out to sign those autographs then deal with our flashes as we photographed Mr. Shaloub on the carpet. Now, that's what I call an actor who understands that red carpet photography and autograph seekers are part of his job.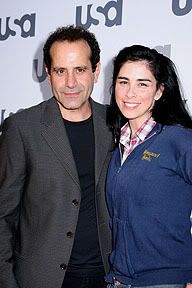 All photos by Pacific Rim Photo Press.