Fanny Pak Gets Their Freak On
By Peter Gonzaga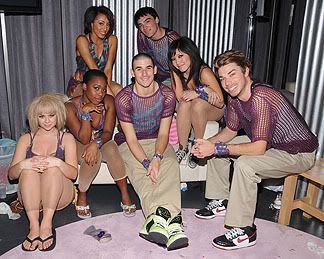 Fanny Pak strike a pose after their performance of "Get Ur Freak On."
Burbank, CA - Looking back at the last episode (Thursday, July 31, 2008) of "Randy Jackson Presents America's Best Dance Crew," Fanny Pak definitely wowed Missy Elliott with their challenge of recreating her "Get Ur Freak On" video. All the judges were blown away by Fanny Pak as they stepped up their game and showed that they are a definitely a dance crew to contend with. After their performance, I was able to join in their celebration of their triumphant success of their challenge and sneak in a few questions.
PG: Hey guys, how's it going?
Fanny: Great! (Megan Lawson sticks out her tongue)
Great tongue action Megan.
PG: Missy Elliott is creative as anyone can get. How were you guys able to take the creativity of her video and make it a Fanny Pak video?
Matt Cady: Especially that it was Missy Elliott, we had to push ourselves creatively as we've never pushed ourselves before. We listened to the song, got the feel for the song and we got the video that we wanted. It's very dark. We never went that route before. We haven't gone that strictly modern almost hip-hop number and that's where we pulled our inspiration from this video.
PG: Shane mentioned about the crawling backwards move on the hands and feet. Who came up with that?
Cara Horibe: That was from "The Exorcist."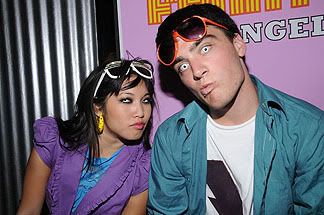 Cara Horibe and Phill Collins mesmerize you with their freaky eyes!
PG: Did it just come into your mind?
Cara Horibe: We were all trying to brainstorm and come up the weirdest f**kin blank. The first thing that came into my mind was Exorcist so I was like, "It would've been amazing if we came down some staircase." I think that would have been a little scary and a little short for time.
PG: With all the moves of this performance, what was the hardest to execute?
Matt Cady: Glenda's flips.
Glenda Morales: Nah, not that.
Fanny Pak: The tape!
Phill Collins: You can't tell if the tape falls off. If you're sweaty, the tape falls off before you start pulling it off.
Beau Fournier: Girl, then we got a free wax job. I think some of my hairs were on it. My lips were burning.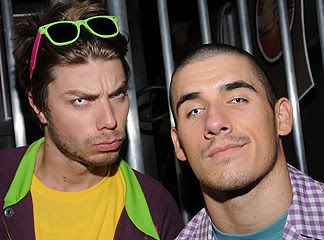 Beau Fournier and Matt Cady before their performance.
PG: So the whole time with the tape, you had trouble with that?
Beau Fournier: Well, I learned to tuck my lips to do it. It still hurt.
Matt Cady: He has a nice mustache and it tugged a little.
PG: Did you notice Missy Elliott get into your routine? It was like you did your own video and she was awed by it. How did you guys feel about it when she gave you all those props?
Matt Cady: That's the best feeling in the world!
Glenda Morales: It's Missy Elliott!
Megan Lawson: It's an honor because we were definitely excited about that video.
PG: Imagine if she did a remix of the video and had you guys star in it!
Fanny Pak: Aargh. Yeah!
Megan Lawson: I would probably die.
Phill Collins: Missy Elliott is one of my favorite artists.
Cara Horibe : If that happened that would be the best thing we got out of this even if we won!
All photos by
Sthanlee B. Mirador/Pacific Rim Photo Press.